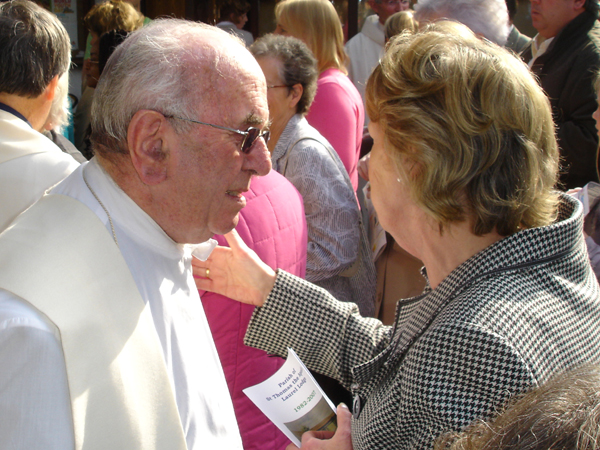 CANON MAURICE O'MOORE
It was with deep regret we heard that Canon Maurice O'Moore passed away on 28th September 2019. He was the first parish priest of St. Thomas the Apostle, Laurel Lodge. The parish later expanded to include Carpenterstown. A native of Co. Down, he studied for the priesthood in Maynooth and gave over 60 years of service to the Archdiocese of Dublin. He administered in many parishes starting in Cabra West and Clondalkin in 1954, moving on to Santa Sabina Convent in Sutton, Greenane in Wicklow, Mount Merrion, Haddington Road, Donore Avenue, Laurel Lodge, Blessington and Monkstown. Although he retired as Parish Priest of Monkstown in 2004 he continued to work in the parish until 2018.
He came to Laurel Lodge in 1980 and lived in the parochial house, which was on Castleknock Rise at that time. He was given a parcel of land for community buildings and an old prefabricated building was provided for a church. His priority task was to build a new school for the parish and he worked hard on the project, using his considerable experience of negotiating with the Department of Education on the style of the building and, in particular, the hip roof as he did not want a flat-roofed building which might leak. He was transferred to Blessington in 1985 where he had to begin another building project.
Canon Maurice had a warm personality and loved visiting families in the parish. He set up groups and committees inviting people to take part in order to establish the new community. He laid the foundation for the strong community that exists in the parish to this day.
Ar dheis Dé go raibh a anam dhilís.